Cheese Fingers


Preheat oven to 400 degrees.
Remove crusts from 3 slices of white bread and discard crusts.
With your hands, break bread into small pieces and drop into
a medium bowl. Add 3/4 cup grated cheddar cheese, 3 tablespoons
grated parmesan cheese and 3 tablespoons milk. Mix well with hands,
kneading the bread into the cheese, until dough will hold the shape
of a ball. Roll heaping teaspoonfuls of mixture into 15 fingers
and arrange on an ungreased cookie sheet. Bake for 10 to 12 minutes
or until fingers begin to turn brown.
Recipe courtesy of:
http://carlah11.tripod.com/recps/cheesefingers.html
Black Halloween Punch
1 (.13 ounce) envelope unsweetened grape soft drink mix
1 (.13 ounce) envelope unsweetened orange soft drink mix
2 cups white sugar
3 quarts cold water
1 liter ginger ale
1- To make a frozen hand, wash a disposable glove, fill with water, seal with a rubber band and freeze until hard.
2- Stir together grape soft drink mix, orange soft drink mix, sugar and water until solids are dissolved. Combine with chilled ginger ale just before serving. Dip the frozen hand briefly in warm water, then peel off the glove. Float the prepared hand in the punch bowl for a ghastly effect.
Recipe courtesy of: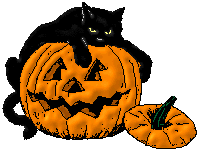 Black Cat Cookies
1 cup crunchy peanut butter
1/3 cup water
2 large eggs
1 (18.25-ounce) package chocolate cake mix
M&M's plain candies
Red hot candies
Preheat oven to 375*F (190*C).

In a large bowl, beat together peanut butter, eggs, and water. Gradually add cake mix. Mix well.

Form dough into 1 1/2-inch balls. Place on ungreased baking sheet. Flatten balls with bottom of glass dipped in sugar. Pinch out 2 ears at top of cookie.

Add M&M's for the eyes and red hots for the nose. Press fork into dough to form the whiskers.

Bake for 8 to 10 minutes. Cool on wire racks.
Makes 4 dozen.
Recipe courtesy of:
http://www.cooksrecipes.com/holiday/black-cat-cookies-halloween-recipe.html